We're pleased to offer the following services at The Animal Center:



Lab

The Animal Center Veterinary Hospital offers full service care with an in-house diagnostic lab, digital radiology, soft tissue and orthopedic surgery, dentistry, abdominal ultrasound, preventative care and inpatient treatment, as well as high quality pet foods.

Chemical analysis of a small blood sample can give the most complete evaluation of the overall body condition. We offer in-house analysis of samples to evaluate complete blood counts, comprehensive metabolic panels, thyroid function, phenobarbital levels, bile acids, and general health of the animal. Echocardiograms and endoscopy are available by referral at a nearby clinic.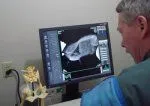 X-Ray

Our state-of-the-art digital X-ray unit allows us to quickly evaluate orthopedic, reproductive, and general health issues. Your pet's X-rays are stored in digital format for easy retrieval and viewing.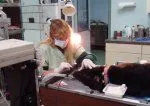 Dental

Periodontal disease is the cause of 95% of all cases of bad breath. In advanced cases, it results in infected, foul-smelling, loosened teeth; massive, unsightly accumulation of tartar; even a loss of appetite due to painful gums. Signs such as diarrhea, vomiting and irritability may also be clues to the need for a dental cleaning. We offer dental specialty services such as prophylaxis, extractions, dental radiographs, composit fillings, bonded sealant, teeth cleaning and polishing to maintain proper dental health.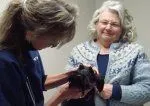 Preventative Care

In order to keep your pet at its best, we provide preventative care for all stages of its life. Heartworm testing and preventative treatment can ensure a long life for your pet. Vaccinations and annual health screenings help extend your pet's active life as a part of your family.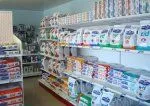 Pet Supplies

We stock the largest selection of Science Diet and Hill's Prescription Diet pet foods in Helena. We also carry Royal Canin Veterinary foods and can special order other brands upon request. Diet counseling is available to identify the optimal food for your dog or cat.

Our small store also has other pet items, such as treats for cats and dogs, skin and hair conditioners, tooth care products, leashes and collars, and pet odor-eliminating candles.
Ultrasound
We have offered limited ultrasound services to our clients since November 2014. These services include ultrasound-guided cystocentesis and full abdominal ultrasound. Echocardiograms are available through referral to another local clinic.
Our appointment book is computerized which allows us to efficiently make appointments for you and your pet. Our receptionists and team will attempt to accommodate all requests to the best of our ability. Call immediately if you feel your pet is having an emergency.
Our doctors and staff rotate on call for AFTER HOURS EMERGENCIES that take place outside of our normal business hours on Tuesdays, Thursdays, and every other weekend. Our on call emergencies are shared with Apex Animal Hospital who is on call for emergencies Mondays, Wednesdays, and every other weekend. If your pet is having an emergency, please call your regular vet to get more information on how to properly respond to the emergency.
Emergencies can be things such accidental poisoning, hit by car, and chocolate ingestion. If you ever feel that your pet needs emergency treatment do not hesitate to call immediately to get appropriate advice from a veterinarian.
If you feel your pet's condition is urgent and cannot wait until the next available appointment, call us and our receptionists can see if our veterinarians are able to accommodate and "squeeze" you in between their scheduled appointments.

Types of Pets Seen
Because a large number of veterinarians practice at Animal Center Veterinary Hospital, we can care for many types of pets:
Dogs
Cats
Rabbits*
Pocket Pets*
Reptiles*
Birds*
*Select veterinarians only. Call us for more information.
The Animal Center Veterinary Hospital offers low pricing however in addition we do offer service dog discounts as well as vaccination discounts for appointments with multiple animals (3 or more) at the same time.